Winter is in full swing! Although the cooler atmosphere has its charm, it may negatively effect the condition of your hair. Low temperatures, humidity and other weather conditions can make scalp more greasy, create dandruff and even cause hair loss. That is why it is worth to know a few simple tricks which will help you take care of your hairstyle in the fall and winter period. Check how it's done!
Use mild hair shampoo
In winter, it is worth switching to milder hair shampoos, preferably moisturizing ones. Why? We can easily dry the hair out by wearing a hat and staying in heated rooms. Cameleo strengthening and rebuilding shampoo with biotin and collagen will be perfect to prevent moisture loss. The cosmetic does not contain artificial dyes, it is suitable for damaged hair, prevents it from falling out and strongly moisturizes thanks to the content of collagen.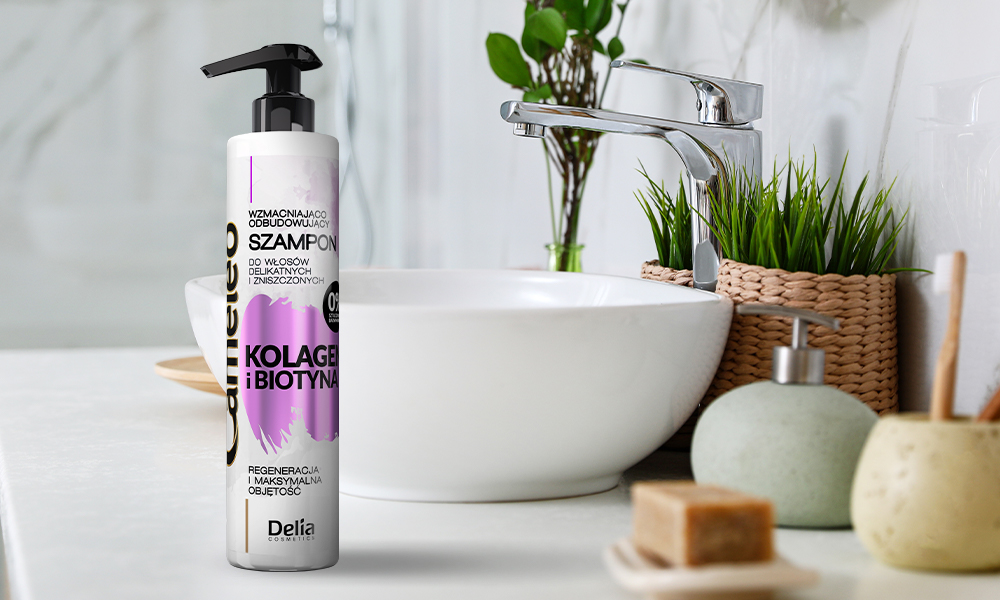 Oil the hair
Hair needs additional nourishment in winter. Therefore, it is a good idea to oil them at least once or twice a week. Oils are emollients that create an additional protective layer on the hair against excessive dryness of the scalp. Sweet almond oils, argan oil, coconut oil and many other ones are perfect for such treatment. Try Cameleo Anti Damage hair silk with the addition of argan oil, which will not only properly moisturize your hair, but also smooth out the unruly strands.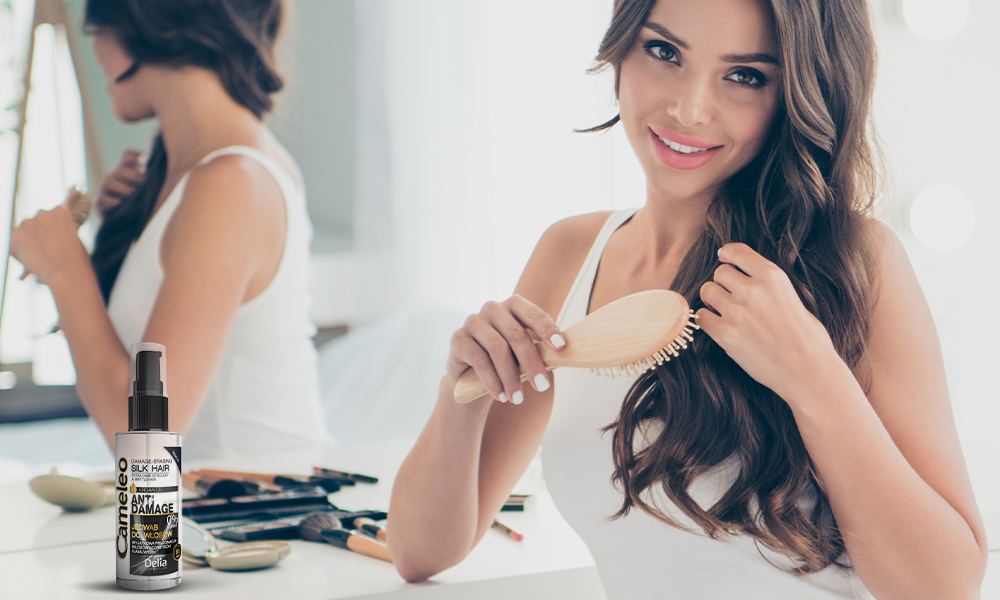 Dry the hair
Do you wonder if you should dry your hair in autumn or winter? Dry air of the heating season adversely affects the condition of the hair. So it's best to leave your hair alone until it dries on its own. However, if you do not have such an option, we recommend drying your hair with cold air or using ionizing hair dryers. Thanks to this, you will take care of the ends of your strands and get rid of the frizziness.
Use conditioners and hair masks
Remember to choose moisturizing care products in winter. As a result, your strands will be smoother and also much more resistant to adverse weather conditions. In addition, they will be less static. We recommend using hair conditioners with strengthening and moisturizing ingredients, such as Cameleo conditioner enriched with collagen and biotin, to regenerate and nourish damaged strands. To care for your hair even better you should also introduce masks into the routine. When applying them, pay special attention to the hair ends, which are usually more damaged in winter. In this case, a moisturizing mask for dry and brittle hair will be perfect. Aloe and coconut water contained in the recipe will restore shine and softness.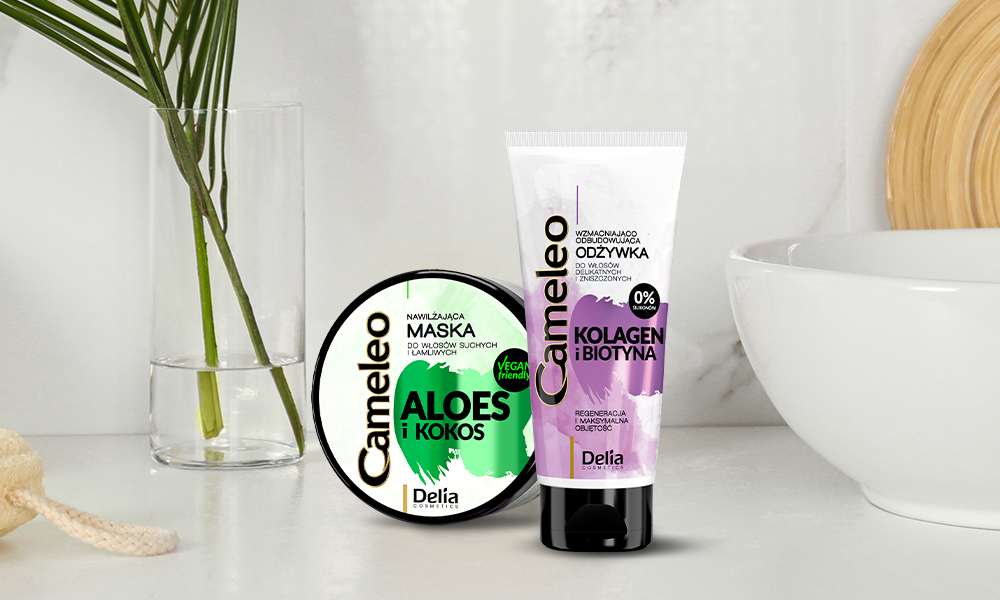 Don't leave your hair wrapped in towel
Wrapping your hair in a towel is one of the most natural things you do right after bathing. Nevertheless, this is not a good idea! Wet hair is sensitive and more prone to stretching than dry hair. Wrapping can break them. So, instead of reaching for the towel, it is better to use gentle movements and squeeze out excess water slowly.
Wear winter hat
Although the hat can make your hair more greasy, it is worth wearing in winter. It protects hair against the harmful effects of frost, snow and wind, which can dry and weaken the strands. Remember to choose a hat made of natural and breathable material. Also – choose the right size. The fit should not be too tight. Additionally you can spray the inside of your cap with an anti-static fluid.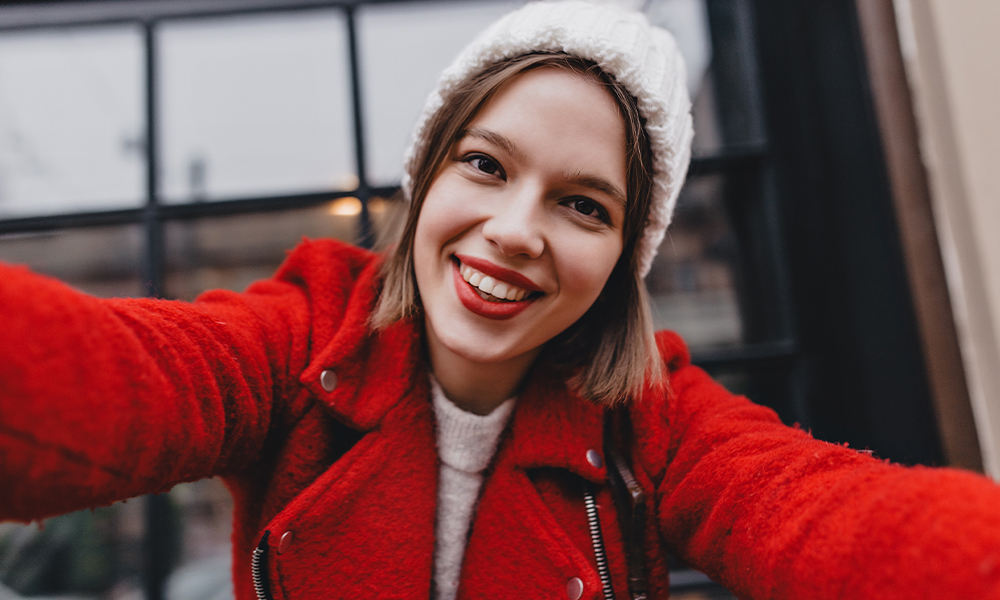 These few simple tricks will help you take care of your hair in winter. Put them into practice and get a healthy and shiny hairstyle!