Until recently, men's hair dyeing was a mysterious phenomenon. Men used to hide this aspect of their lives, fearing the reaction of their family and friends. However, if we go back in history, we will find out that men have been dyeing their hair for centuries. Did you know that in antiquity they used henna or a mixture of ash, clay paste and goat fat for coloring? So leave behind the stereotypes and welcome new trends! What is it that you should know about men's hair coloring?
Why do men dye their hair?
Several years ago, our main reasoning of why men dye their hair, would be that they simply want to hide the process of graying. Only when the production of natural pigment was plummeting and first gray hairs were starting to appear, did men took dyeing into account, preferably in the privacy of their homes. Another important reason was (and still is) the desire to conceal hair loss. Proper haircut and some hair toning can successfully hide the first signs of male pattern baldness. On the "why to dye" list, both now and then, we can also put the desire to stand out from the crowd, which is especially strong in the showbusiness world. At the beginning, red or platinum blonde hair worn by celebrities shocked and made people laugh. With time, however, it began to be perceived as an artistic expression.
Today, the above-mentioned reasons are no longer ultimate. The group of men willing to dye their hair is gradually increasing and nothing indicates that the trend might change. The external appearance is just as important for men as for women, so the pursuit of perfect appearance and satisfying image concerns them to the same extent. A well-groomed and tailored hairstyle boosts confidence in personal and professional life, of which men are well aware. Nowadays, boasting a fresh, vital and young look has become the most desirable thing, and hiding the signs of aging by dyeing hair is one way to achieve it. Following the growing popularity of the new trend, the cosmetic manufacturers began to create hair care products for men as well as entire lines dedicated to male coloring. Special barber shops, where you can groom your hair and beard, are appearing on every corner. The global trend of lumbersexualism, that is the quintessence of masculinity combined with carefully crafted image, is a real and long-term tendency that has permanently entered public awareness.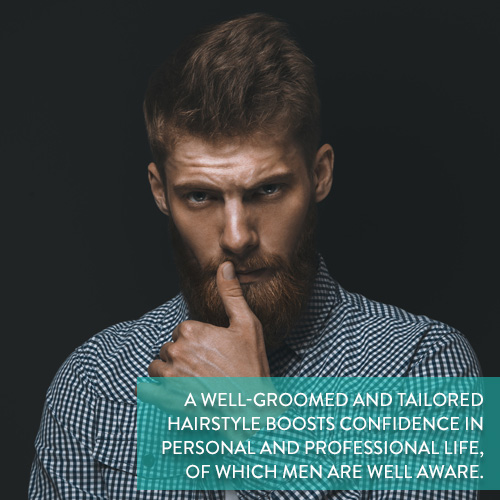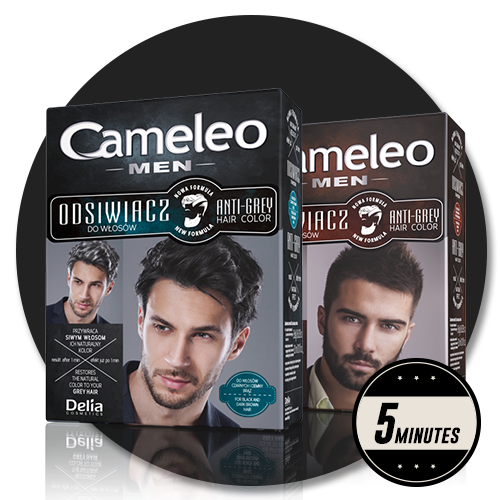 Artists, trendsetters and fashion bloggers help men overcome hair color barriers. They promote new trends in hair coloring, such as gray or silver hair (the total opposite of concealing signs of ageing and loss of color). But what if we prefer to stay with our natural hair color as long as possible? Here comes an innovative technology which has the power to restore your natural shade. Anti Gray Hair Color For Men from Cameleo is the easiest and fastest way to get rid of your grays without the use of classic hair dyes, and it is for diy use! Our anti-gray hair color is easy to use, just mix the contents of the sachets with water, apply, and leave on your hair for a few minutes. The treatment provides permanent and even color, very close to your natural one. Anti Gray Hair For Men is available in two colors: brown and black. In the package you will also find a balm to use after the treatment. It revitalizes and nourishes the hair, leaving it smooth and soft to the touch.
One of the ways to choose the right hair color is making it match the complexion and iris of the eye. Much more often, men choose colors close to their natural hair color. If you've decided to dye hair yourself in the comfort of your own bathroom, think about what you would like to achieve – conceal your gray hair? Revive the color? Slightly change the shade? Or maybe you want a total metamorphosis? Remember that people with very light complexion usually do not look very good in very dark hair. If you have blue eyes, a light shade of brown will work great with them.
Men who have just started their adventure with hair coloring can try less bold colors using washable hair dyes, so that they can quickly get rid of the effect if they are dissatisfied. If you are 100% sure about your decision, we can recommend a permanent solution, Cameleo Gray OFF Colorizer for Hair, Beard & Mustache, a line of permanent hair dyes in sachets. It takes only 5 minutes of your time and it's ready!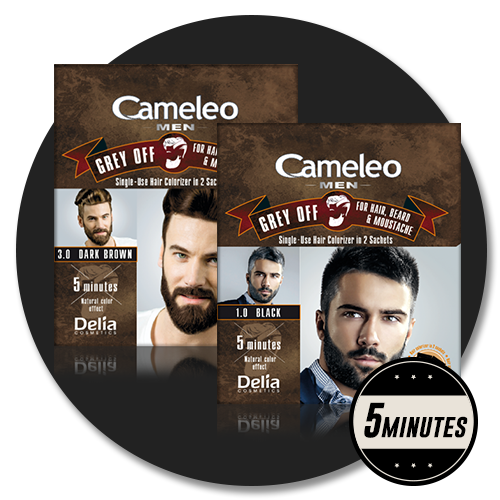 If you have decided to do the coloring at home, first of all think well of the right color for you. If you consider a total change of your image, for example going from blonde to dark brown or black, be aware that the final result might be unsatisfactory. Then it will take quite a long time before you return to your natural color (however shaving off your hair is always an option;)). This is why to be on the safe side, choose a shade that does not differ too much from your natural color and goes well with your eyes and complexion. When applying hair color, always follow the instructions provided on the package or on the leaflet. This way you will avoid many surprising and usually unpleasant consequences. Approximately 48 hours before every dyeing, do an allergy test, because the chemicals in the hair color may cause a variety of allergic reactions when in contact with the skin and hair, for example, rash or redness.
Do not hesitate – give your hair a new a vibrant shade with Gray OFF Colorizer or Anti Gray Hair Color For Men from Cameleo, and never again bother about gray hair.