Bored of your natural hair colour and want to change something, but you're worried about the condition of your hair after the treatment and whether you'll like the effects? You couldn't be more wrong! It's about time to make this decision!
To dye or not to dye?
This is the question millions of women worldwide ask themselves. The struggle between the love for natural hair and the desire to change the colour is not surprising. Often the love of one's natural hair is overshadowed by the fear of its condition which stops one from trying out new colour. Today we debunk the myths and say bye to our fear! Remember – hair colouring doesn't equal damaging your hair and hiding an unwanted hairstyle under a hat!

What do you need to know?
1. DIY – do it yourself!
Are you a 'do-it-yourself' type? Great, you'll do a fantastic job! Prepare yourself for a trip to a drugstore, but decide what product you want to get beforehand to avoid being overwhelmed by countless possibilities.
Are you a 'do-it-yourself' type? Great, you'll do a fantastic job! Prepare yourself for a trip to a drugstore, but decide what product you want to get beforehand to avoid being overwhelmed by countless possibilities.
You need to know the products available:
Products for permanent colouring – choose them when thinking about a long-term effect and when you want full coverage. Cameleo offers OMEGA PLUS hair dyes that will protect and care for your hair! Read our post about permanent colouring at home and pick your favourite hair dye!
Products for semi-permanent colouring – they stay on for much less than permanent hair dyes. Pick them when you want to bring out your natural colour or when you fancy a short-term change. Cameleo offers a HENNA CREME semi-permanent hair dye that results in vivid, but washable colouring. You can also choose Cameleo washable COLORING SHAMPOO or Neon Colours hair color creams in crazy shades!
Products for non-permanent colouring: choose them if you want subtle highlights, get rid of any unwanted tones or go wild with colour, for instance for a party! We offer iconic Cameleo hair toners – pink, purple and silver or Neon Colours hair sprays!
The colour of your hair colouring product should match your complexion, eye and eyebrow colour, but when thinking about non-permanent options you can choose one that matches your party outfit!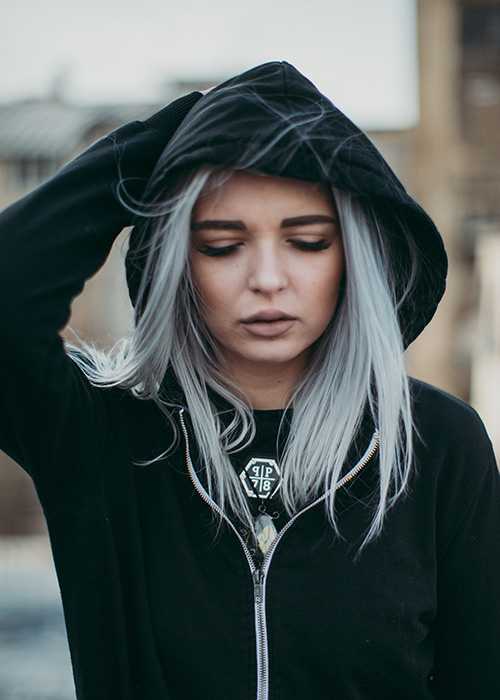 2. Get to know professional hair colouring techniques and choose something for yourself!
If colouring your hair by yourself is not an option for you – it's time for a visit to a hairdresser's! To be fully happy with the effects you need to prepare yourself for the process – especially when doing it for the first time! Get to know the most fashionable trends and choose your favourite method:

When choosing the right technique look for an inspiration on the Internet. For instance, browse through Pinterest for hairstyles that you like and show them to your hairdresser.
LIFEHACK! If you found your favourite hair dye shade but don't want to do it yourself – take it with you to the hairdresser's and let a professional handle it!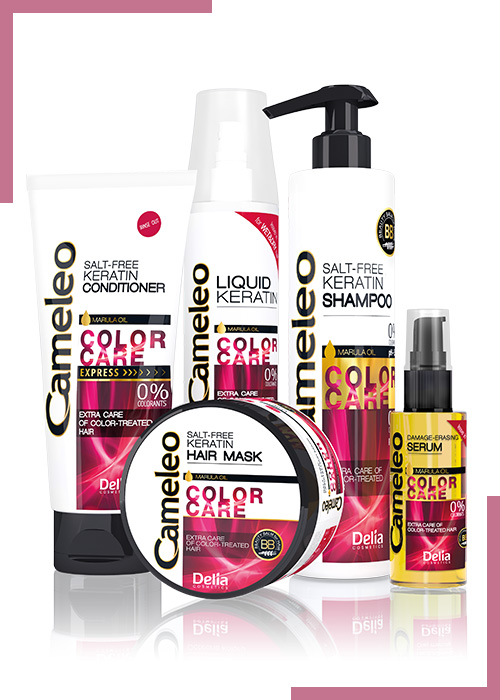 3. Take care of your hair after the treatment!
Dyed hair requires special treatment – it doesn't matter whether you've done it yourself or had it done by a professional. Note, that it also doesn't matter whether you choose a permanent, semi-permanent or non-permanent treatment, your hair will need special care for instance with Cameleo BB series for damaged or dyed hair. Remember that your beauty routine should match the degree of the changes – e.g. when bleaching your hair from dark brown to blonde – you need to know that this will have a lasting effect and will require a lot of patience from your hair (it doesn't mean, however, that it will be damaging – read our post about a safe removal of colour). Prepare yourself for the change of your hair condition after radical hair colour changes (including colour removal), meaning your hair will require special treatment. Furthermore, remember that after colouring you should:
• Brush your hair before washing, and afterwards to not rub it with a towel.
• Wash your hair using lukewarm water and use the right products, for instance the Cameleo keratin shampoo for dyed or damaged hair, which doesn't contain salt.
• Use a hair mask or conditioner at least once a week, to strengthen your hair.

If you choose the right products for DIY colouring containing for instance omega acids like Cameleo OMEGA PLUS hair dye – your hair will be safe as it will be protected even during the treatment. Try to choose a product that will give you the metamorphosis of your dreams and a care treatment at the same time! Don't forget to take care of your hair after colouring. Of course colouring can have a negative effect on the structure of your hair, but if you're prepared for it and will take care of your hair after the treatment there is nothing to worry about. Get ready for a colouring win-win and a full satisfaction from your metamorphosis! Will you dare?