Ecological, natural, bio, ecotrend, vege – those terms and similar ones have dominated many areas of our life. Delia Cosmetics natural cosmetics for care and make-up have been available for some time because we know how important the ingredients are for you. The next step toward nature was to create a special cosmetic line based on natural ingredients. Meet Cameleo Natural and enjoy delicate and safe care every day.

Eco-life
As recently as a few years ago many people wondered if the demand for natural products was but a temporary trend which would go away like other fashions or if it would last longer. However, just by looking at the media and store offers, we can be sure that the eco trend is doing very well and that it expands to many industries. In the era of exceptionally difficult environmental conditions, including smog and toxic food, clothes, and cleaning agents, as well as cosmetics, it appears only natural (?) that people have become eager to find products which will not destroy their health. Women who buy ecological cosmetics are aware of the problems related to harmful ingredients and interested in the ingredient list given on the label. This means turning away from fast life which we have come to accept in the last decade and which required that everything should be done 'here and now'. Now we are all switching on the slow-life mode, with ecotrend at the head of the movement.
Slow-life = Slow-hair
Delia Cosmetics has always followed clients' needs and expectations with the Cameleo hair line. We began by introducing natural body care and make-up cosmetics. Then, the idea of slow hair was born. It referred to the slowing down of life and to the return to nature. Slow life means using one's time in an optimal way, including time for relaxation and for oneself. The Cameleo Natural line is the first such initiative in Poland; it introduces hair cosmetics with natural ingredients. Cameleo Natural products are designed primarily for people who are conscious of the needs of their hair and who know that more time is needed to achieve the desired result. The users of those products usually call themselves 'hair maniacs' – they know their hair and its problems, and they look for healthy products which will help them in everyday hair care, without causing damage to their organisms or to the environment.
Cameleo Natural
Cameleo Natural are two lines designed for hair with various needs and containing as much as 95% natural ingredients.
The Detox line are cosmetics designed for normal and oily hair. That line is based on 2 active ingredients: natural clay which detoxifies, disinfects, nourishes, cleanses, and regulates the functioning of sebaceous glands. The second ingredient is sage extract, the main function of which is to strengthen and nourish hair.
The Aqua Action line are products for women with dry, matte hair which require deep hydration. It contains chia oil, known for its ability to easily penetrate skin and hair, which immediately hydrates and regenerates, and strengthens the lipid barrier. Aqua Action also contains shea butter which closes gaps in the hair structure, reduces hair porosity, and prevents drying.
Both lines contain a series of 5 cosmetics, based on the active ingredients mentioned above, which comprise complete sets for hair care.
– A pre-mask before hair washing – this is a novelty in Polish cosmetic production. Delia Cosmetics has been the first Polish company to create this product type, which is already popular abroad. A pre-mask is a cosmetic for thorough cleansing of hair and scalp, for hair softening, and for preparing the hair for shampooing. It is a popular method know to all 'hair maniacs' and to people interested in professional hair care. Put the pre-mask on dry hair for 5 minutes and shampoo the hair.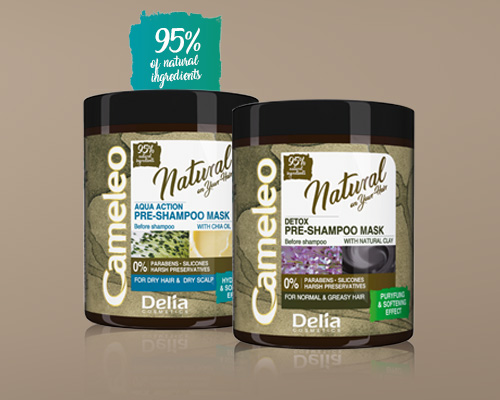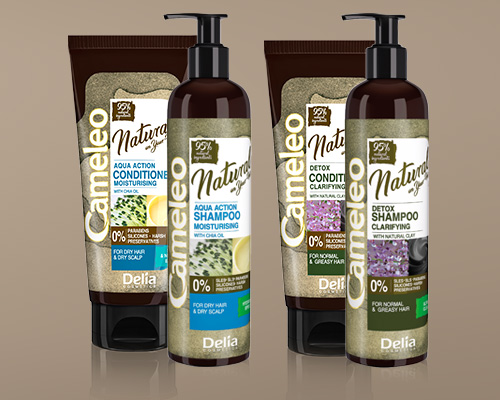 – A shampoo for everyday care: a cleansing shampoo in the Detox line and a hydrating shampoo in the Aqua Action line. The shampoos have their different, special properties but both are excellent for washing and cleansing the scalp and hair. Remember to wash your hair twice.
– A hair shine conditioner for rinsing: a cleansing one in the Detox line and a hydrating one in the Aqua Action line. The conditioners make it possible to achieve the effect of shining and smooth hair without an unhealthy, oily look (Detox) and of shiny and hydrated hair without the effect of dry hair (Aqua). Always use the conditioner after shampooing. Put it on wet hair and rinse very well with lukewarm water.
– A spray vinegar conditioner without rinsing – this is a respectful reference to our mothers' and grandmothers' methods and their use of vinegar rinses for hair strengthening and for making the hair shine. Our vinegar sprays are special formulas based on a vinegar derivative which has the beneficial properties but does not have the pungent odor. The sprays ought to be used on wet hair (which absorbs active ingredients better) and they can replace the rinsing conditioner, however, they should not be used more often than twice a week, so as not to overburden your hair.
– A serum – for hair ends, for the effect of a soft finish. The serum immediately improves the look of hair ends and undisciplined strands. Apply it on wet or dry hair. Do not rinse.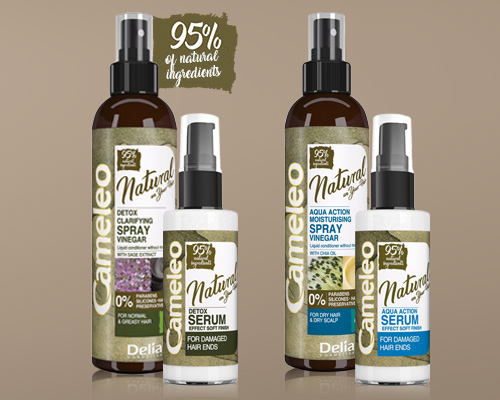 Choose ECO!
Do not stay behind and choose eco life with slow hair. Show that the more modern our world is, the closer we are to nature. Cameleo Natural is an innovation which allows you to enjoy beautiful and healthy hair with the knowledge that you take care of yourself and the environment.
5 things you need to know about Cameleo Natural: