What determines if our hair looks beautiful? Of course its health and condition. This in turn is determined by the skin condition, particularly the condition of hair follicles. Follicles need to be supplemented with the ingredients they are made of – both chemical and biological. Which natural ingredients help to revitalise, nourish and moisturise the hair?
What every hair type needs?

Each of us dreams about thick, shiny hair that all will envy. Not all of us, however, know the way to achieve it. Often, we look for a solution through treatments, supplements, medications or synthetic hair products hoping for a miracle. We forget, however, that the best we can give our hair is nature, diet and time.
If we have a well-balanced diet and give ourselves time for therapy, what we are left with is simply choosing proper hair products. They should be packed with plenty of natural ingredients that our body absorbs better than synthetic ones. The best sources of natural ingredients include herbs as well as natural and animal products (e.g. egg yolks). Note that the results of using such products can take longer to notice.
Why use natural hair products?
They are safe and caring for our body – products made with natural ingredients are made specifically with the needs of our skin in mind, that requires gentle and effective care. Such products can't harm or irritate the skin in any way.
2. Smaller possibility of skin irritation and allergies – unfortunately, no products 100% safe for those suffering from allergies exist. Each person prone to allergies needs to test them on their own skin first. By using products with natural ingredients, however, the possibility of skin irritation is lowered.
3. Simple formulas and ingredients – effective and kind to one's skin.
4. Less chemicals and toxic ingredients – using natural ingredients reduces the amount of chemicals that is difficult to do nowadays. Chemicals are present everywhere – in food, cleaning products, drinks, medications and beauty products. Let's reduce the amount of chemicals we use wherever we can!
5. Effective – active ingredients from plants that compromise the base of natural beauty products are extremely effective and support natural processes within our body. Instead of blocking the proper function of sebaceous glands – facilitate it! Sebaceous glands keep water in the cells and protect the skin from losing moisture. They also rebuild the hair from the inside, smoothing it and bringing out its natural beauty.
6. Out of respect for environment and animals.
Cameleo Natural comprise two series with different hair needs in mind, made in 95% of natural ingredients.
Detox is a series of hair products made for normal and oily hair. The series is based on 2 active ingredients: natural clay that has detoxifying, nourishing and cleansing properties whilst regulating the function of sebaceous glands. The second ingredient is sage extract that strengthens and nourishes the hair.
Aqua Action is a series of hair products for women with dry and matte hair in a need for a deep nourishment. The series is made with chia oil known for the ease with which it penetrates the hair and skin, brining instant nourishment, regeneration and the strengthening of the lipid barrier. Another ingredient of the Aqua Action series is shea butter, that rebuilds any losses within individual strands, makes hair less porous and prevents it from drying out.

Each series contains 5 products made with above active ingredients that create complex hair care essentials: pre-mask, shampoo, conditioner , spray vinegar conditioner and a serum.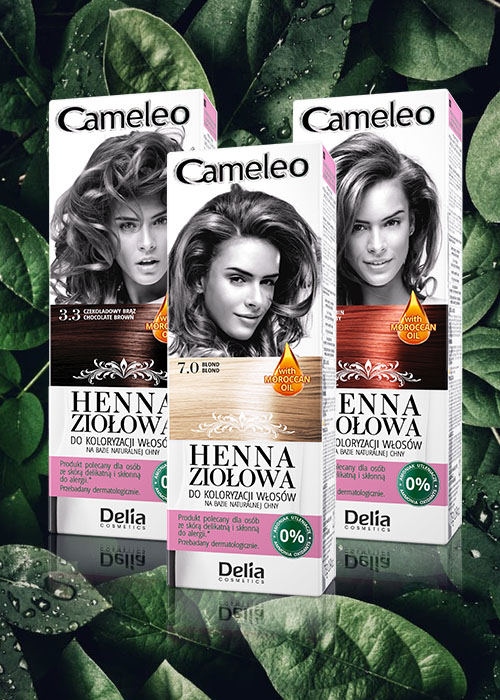 Semi-permanent hair colouring
Want to refresh your hair colour without exposing it to intensive treatments? Try our semi-permanent hair colouring, which doesn't interfere with natural hair structure. Its innovative formula combines Indian chne (Lawsomia inermis), selected pigments and precious Moroccan oil. Thanks to those conditioning ingredients, the hair is nourished, soft, shiny and healthy-looking.
Semi-permanent hair colouring is a subtle way to change the colour of one's hair without the risk of a permanent effect. What's important – it lacks ammonium and oxidizing agents. It makes the product perfect for people with sensitive skin prone to irritation and allergies. A dermatological study of women aged 25 to 55 showed:
100% of participants – no skin irritations
100% of participants – no hair damage
100% of participants – colour satisfaction
100% of participants – no static electricity in hair
Hair colouring has never been so easy and safe!

Cameleo BB
Cameleo BB comprises 4 series of hair products for damaged, dyed, curly and fine hair. When creating each series we worked to eliminate many harmful substances that have a negative effect on the health and appearance of hair. Each product has no artificial colouring or salt, that dries out hair follicles.
We recommend using those products for people with extremely damaged hair, tired by frequent hair treatments. Innovative formulas ensure the deepest nourishment and highest effectiveness whilst caring for sensitive skin.
Natural ingredients that comprise the products combined with biomimetic keratin Kerestore 2.0 help to regenerate damaged hair through penetrating the hair straight to the most damaged parts. Additionally, they help to rebuild the hair structure and deeply nourish it with a soft and silky-smooth finish.
Want to have healthy and beautiful hair but don't want to treat it with chemicals? Cameleo has a broad range of products that will make every lover of natural products happy. Remember that hair care should not only be effective, but also safe.